2020 has been a challenging time for everyone. The impact of the pandemic has been very large. For some people the pandemic resulted in a significant increase in workload, like doctors and nurses in hospitals, teachers at schools and universities and online retail and service providers. On the other hand, many have been confronted with structurally working from home or worse loss of work or even loss of employment. The already existing inequality in society has widened as a consequence of the pandemic. In the meantime, alarm bells continue to go off with respect to climate change and other environmental issues. To get an insight in the magnitude of the environmental crisis, we can only recommend you to view the videos of David Attenborough. In stimulating change in executive remuneration we hope to contribute to the transformation to a better and sustainable future.

As Reward Value, 2020 has also been the year of achievements. Our Green Paper, has been well received by academics and institutional investors. We have established good working relationships and sounding board connections with business schools and international organisations like FCLTGlobal, UNPRI, r3.0 and ECGI, as well as with the Big Four accounting firms. Through our responses to consultations as well as to active discussions we contribute to policy developments at the European Commission related to the Renewed Sustainable Finance Strategy as well as sustainable Corporate Governance. A number of follow-on research activities are taking place right now, like our BAM experiment on the behavioural consequences of amended remuneration policies, the analysis of the existence and impact of short termism and the alignment study of purpose statements, remuneration policies and corporate long-term impact (financial and non-financial).

With the establishment of the Reward Value Foundation and the planned creation of the Reward value Association, our organization is maturing as a trusted partner in (applied) research towards responsible executive remuneration. Our goal of establishing, globally accredited, Principles of Responsible Remuneration is targeted for 2021 and the subsequent development of remuneration models is work in progress. We are grateful to the many enriching partnerships and contributions from the academic world and the investment community. We look forward to continue our work and contribute to the needed change towards a sustainable long-term future of our planet and society. In our view renewed executive remuneration can be a catalyst for change.

In the picture below, an overview is given of the past, current and planned activities of Reward Value. You can actively follow us on our linkedin page as well as through partnering with us. Joint efforts will allow for acceleration of progress.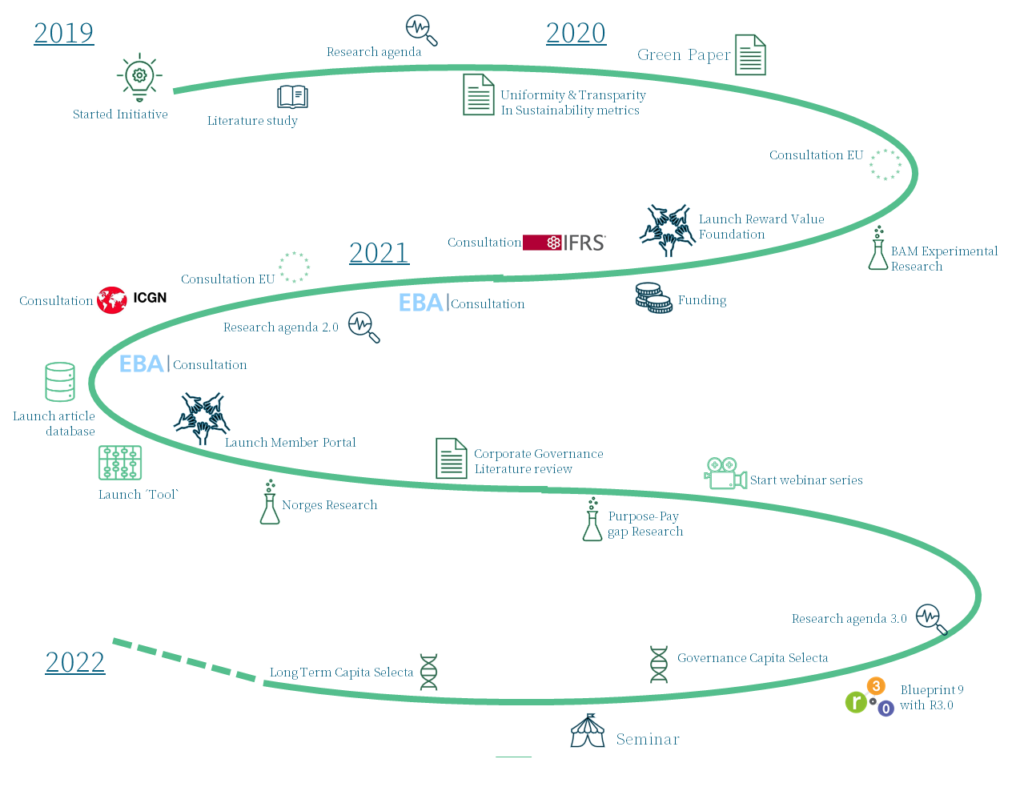 ---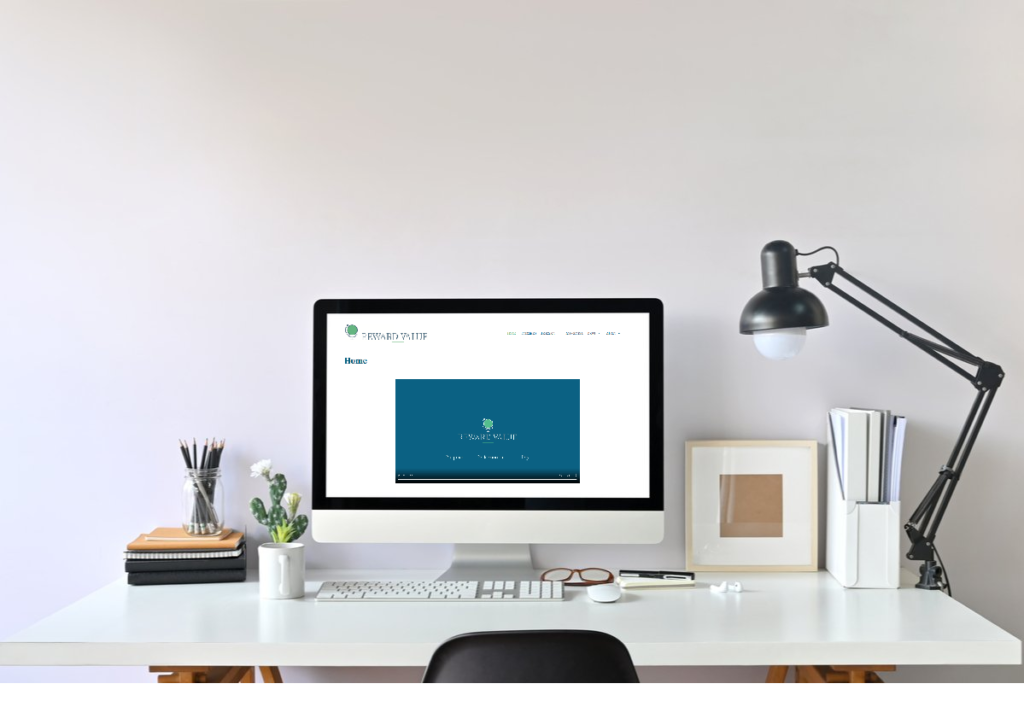 New website
Our new website is live! We invite you to visit our site to get a good picture of our goals and activities. Besides detailed information on our approach, newest research initiatives, and how we believe that fundamental change is obtained through active participation of all relevant stakeholders, we have also posted our green paper on the renewed website. The Green Paper reflects our current line of thinking on improving the practice of executive remuneration and comes with suggestion on the way forward.
---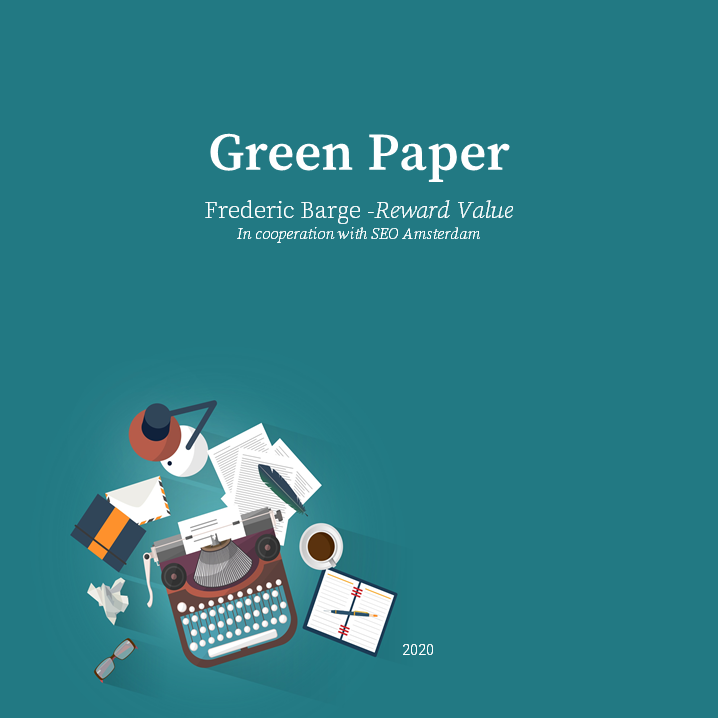 Green Paper Reward Value
Together with universities and business schools, the business and investment value chain, and societal stakeholders, we work towards a new evidence-based remuneration model. As a first step to support the envisioned evidence-based nature of the new remuneration model, Reward Value and its partners have undertaken preliminary yet careful research and analysis. This green paper reflects our current line of thinking about the problem of executive compensation and options for the way forward. Comments are welcome
"Firms play a key role in shaping beneficial societal outcomes. Firms create jobs, generate wealth and offer desirable goods and services to consumers. At the same time, some firm behaviour comes with social or environmental costs like inequality, poor working conditions, pollution, carbon emissions or the over-exploitation of natural resources. This is well-recognised and has prompted a myriad of initiatives, both public and private. The UN SDGs and the Paris Agreement amongst other mark the public interest in sustainable and inclusive economic outcomes. Private sector efforts such as the UNPRI, World Business Council on Sustainable Development, Focusing Capital on the Long Term and the Global Reporting Initiative aim to promote responsible business practices and disclosures"
---

Partnership with R3.0
It is our mission to support the development of remuneration policies that contribute to sustainable long-term value creation. But how? By working with key universities and business schools to provide a strong factual foundation and by partnering with great initiatives like r3.0 that promotes Redesign for Resilience and Regeneration. As a global common good not-for-profit platform, r3.0 crowdsources open recommendations for necessary transformations across diverse fields and sectors, in response to the ecological and social collapses humanity is experiencing, in order to achieve a thriving, regenerative and distributive economy and society.. . r3.0 aligns its level of ambition not to ideology, but to the transformation needs dictated by science and ethics. r3.0 is a non-profit initiative, independent from standard setters and regulators and focused on a holistic view to system change. They achieve the objectives through a global network of 6,000+ individuals who pursue constructive engagement with influential actors as a means of activating the necessary shifts. We are proud to partner with r3.0.
We are at the crossroad of academic foundation and practical implementation. We believe that fundamental change is obtained through active participation of all relevant stakeholders. The field of executive remuneration has many different stakeholders, and we invite stakeholders to contribute, in kind or financially, to our mission.
---

Open letter to Mr. Erkki Liikanen, Chair IFRS Foundation Trustees
Last week, we submitted our comments to the IFRS Foundation's consultation paper on Sustainability Reporting. We clearly see the need for a global set of internationally recognized sustainability reporting standards and are of the opinion that they are best positioned to take the central role in this process. The effective integration of sustainability performance in the financial performance and incorporating the integral measure in the executive remuneration policies will stimulate organizations towards sustainable long-term value creation for society at large. Their initiative is an important step forward and should receive broad support.
---
Upcoming research: Effectiveness of PSUs vs RSUs
Some institutional investors, most prominently Norges Bank Investment Management (NBIM), favour the use of restricted stock units (RSUs) as an incentive in executive remuneration. The structure of long-term incentives in many organizations is build around performance stock units (PSUs). The number of shares of a company to vest to an executive is thereby dependent on specific performance criteria. At the date of grant certain performance goals are defined and upon vesting (usually after three years) the actual number of shares to be transferred to the executive are dependent on the realisation of the set goals. Current criticism is centred around the following topics:
a. Complexity of remuneration policies
b. Share price is the true reflection of long-term value
c. Vesting period
It is not yet examined in great detail whether the use of RSUs are as effective or more effective than the use of PSUs. To get a better insight in this important question, a detailed data analysis will be set up among firms using either PSUs or RSUs and the impact such incentives have on the long-term value creation of companies. Secondly, the study will examine the effectiveness of extended vesting periods. We intend to execute the study in cooperation with one or more European and US universities.
---
Subscribe to our newletter now!