Research Agenda
Reward Value has initiated a collaborative research agenda with the aim of developing an improved remuneration structure. Together with the business and investment community, academics and society at large, Reward Value seeks to re-align remuneration with both stake- and shareholders' interests. Reward Value has commissioned SEO Amsterdam Economics (an economics consultancy and research firm) to support the development of this research agenda with analyses and experiments.

Fundamentally, a remuneration structure consists of three components:
A yardstick to judge performance;
A remuneration mechanism that links performance to pay; and
Appropriate governance to ensure the structure functions smoothly and as intended.
Click on the elements in blue to learn more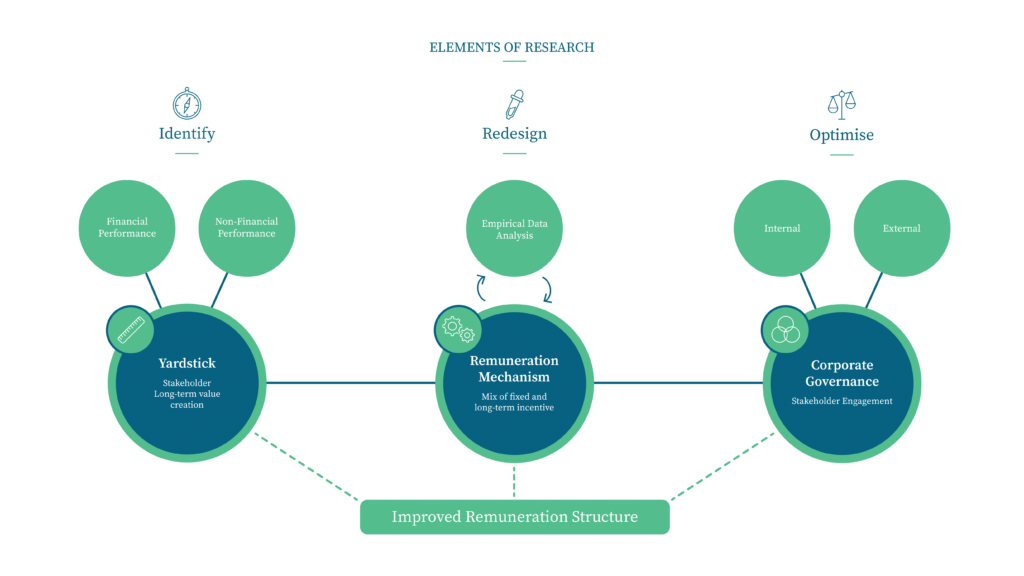 ---
Reasons for Research
FOCUSING CAPITAL ON THE LONG TERM

"Implement incentives, such as fee and compensation structures, to prioritize clients' long-term best interests." 2


"Each of our stakeholders is essential. We commit to deliver value to all of them, for the future success of our companies, our communities and our country."3


"We expect … performance measures that are closely linked to … long-term strategy … to ensure executives are rewarded for … sustainable returns … as opposed to short-term hikes in share prices." 4

PRINCIPLES FOR RESPONSIBLE INVESTMENT

Executive remuneration remains a contentious issue across different markets; however, there is one point where there is widespread consensus: it needs a rethink."5

WORLD BUSINESS COUNSIL SUSTAINABLE DEVELOPMENT

"Link executive and board remuneration to ESG success." 6

"Policy ambition is needed to spur business action. Businesses cannot address this global crisis on their own" 7

"Rethinking the future of corporate finance and investments as a catalyst for growth and social impact" 8
EUROPEAN COMMISSION GREEN DEAL

"Our plan to make EU's economy sustainable" 9
Critics of executive remuneration argue that remuneration is too high and focused on short-term shareholder value maximization that disregards environmental, social and governance (ESG) considerations.
Pledges from business leaders to lead their companies for the benefit of society at large¹ that have little or no impact on executive remuneration fuel a growing skepticism and sense that something needs to be done.
Changing entrenched ideas on remuneration policy will require broad support from all stakeholders and a strong factual foundation. Reward Value has commissioned SEO Amsterdam Economics (SEO) to support the initiative with analytical research and continue to develop close cooperative working relationships with institutional investors, business schools and the business community.
¹ See e.g. Business Roundtable, Statement on the Purpose of a Corporation, August 19th, 2019. 2 FCLTGlobal (2019), Model Stewardship Code for Long-Term Behavior 3 Business Roundtable (2019), Statement on the Purpose of a Corporation 4BlackRock (2019), Investment Stewardship 2019 Annual Report 5 PRI (2019), What's the future of executive pay? 6 WBCSD (2019), From purpose to action: making the transition to a flourishing society. 7 Business for Nature (2020) https://www.businessfornature.org/ . 8 United Nations Global Compact (2020) https://www.unglobalcompact.org/ . 9 European Commission (2019) https://ec.europa.eu/info/strategy/priorities-2019-2024/european-green-deal_en